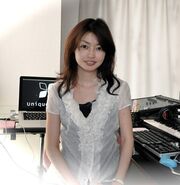 Yoshino Aoki (青木 佳乃 Aoki Yoshino) is a former composer for Capcom. She composed the music and provided vocals for Breath of Fire III and Breath of Fire IV.
Nina

: With everyone helping me like this... I'll be finished in no time!
This article is a stub. You can help by expanding it.