Breath of Fire II Boss
Roach
ゴキブリ Gokiburi (Cockroach)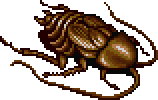 HP
AP
100
Infinite
Atk
Def
Ms
30
18
+4
Agi
Luck
Immunity
12
15
-
XP
Z
32
15

| | |
| --- | --- |
| Location | Ruins |
| Drop | Herb |
| Drop rate | 0 |
| Abilities | "Gets up" |
| Element | - |
| Info | - |
Roach is a boss found in Breath of Fire II.
When the party first arrives at Ruins they hear someone calling for help inside. Upon entering they find Niro surrounded by a group of Pests. After defeating the pests, Roach appears behind the party and initiates battle.
The party at this point consists of Ryu and Bow. Ryu should constantly attack, and Bow should heal when needed.
Occasionally, when the Roach is defeated it 'gets up,' restoring some of its HP. This may be a reference to boss battles in Breath of Fire, where after depleting a Boss's life bar they gain a 'second wind' and continue fighting.
Related Enemies
Edit
Community content is available under
CC-BY-SA
unless otherwise noted.