Breath of Fire II
Joker
ジョーカーさま Jookaasama (Mr. Joker)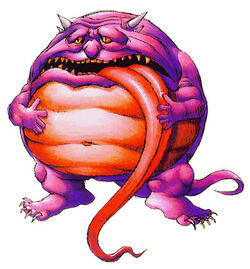 HP
AP
580
Infinite
Atk
Def
Ms
43
38
+1
Agi
Luck
Immunity
24
30
-
XP
Z
300
200

| | |
| --- | --- |
| Location | Mt. Rocko |
| Drop | Herb |
| Drop rate | 0 |
| Abilities | Psn.Chop |
| Element | Fire |
| Info | - |
Joker is a boss found in Breath of Fire II.
Main article: Joker
Being fire elemental, he's weak to ice, so having Nina use Cold/Frost is an effective way to damage him (it deals upwards 50 damage). Ryu and Katt should focus on attacking and should one of the party members get hit, have Katt heal the one that was hurt. 
With a decent level, Ryu and Katt should be able to absorb 2-3 blows each but Nina will only be able to absorb 1 blow before requiring healing.
Overall, he's not terribly difficult but he can be troublesome if he decides to focus on Nina (as that means Katt will have to heal her every single turn, which might make the player run out of Herbs , depending on how many the player brought).
Community content is available under
CC-BY-SA
unless otherwise noted.