Main article: Barubary
Breath of Fire II
Barubary
バルバロイ Barubaroi (Barubaroi)

HP
AP
Infinite
Infinite
Atk
Def
Ms
?
140
-1
Agi
Luck
Immunity
90
{{{luck1}}}
{{{immunity1}}}
XP
Z
{{{xp1}}}
{{{z1}}}
Barubary
バルバロイ Barubaroi (Barubaroi)

HP
AP
3800
Infinite
Atk
Def
Ms
?
140
-1
Agi
Luck
Immunity
90
{{{luck2}}}
{{{immunity2}}}
XP
Z
4000
5000
Barubary
バルバロイ Barubaroi (Barubaroi)

HP
AP
5000
65535
Atk
Def
Ms
380
140
-1
Agi
Luck
Immunity
{{{agi3}}}
{{{luck3}}}
{{{immunity3}}}
XP
Z
4000
5000
Barubary is a boss found in Breath of Fire II.
Storyline
Edit

This section is a stub. Please help Breath of Fire Wiki by expanding it.
Barubary is fought three times in the game, the first of which is early in the game and is a mandatory defeat. 
The true fight happens near the end of the game, where he is widely considered to be the game's most difficult boss due to his high HP, overall high stats and most importantly, all his attacks can hit all party members for large damage, along the grueling requirements to defeat, if fought in a duel. 
In his second encounter Barubary must be damaged by around 1200 damage to end the fight, at which point Barubary will offer two choices, either to duel him with Ryu or battle him as a party. 
Regardless of the battle format chosen, Barubary will pummel the party hard with his plethora of party attacks, including Cold Breath, Fire Breath, and his strongest, Bolt X. Worth nothing is that Barubary's normal attack will grow in power the more HP he loses, furthermore he has a rather fearsome counterattack ratio, although this affects only one party member. 
Fortunately for the player, Barubary is a relatively slow opponent. 
Solo strategy
Edit
If attempting a solo approach, the player will need a vast amount of restorative items, as it is unlikely Ryu will survive the full brunt of Barubary's attacks without aid. Nonetheless it is recommended the player is at Level 45 and preferably higher to build better stats, and overall bulk and HP.
There are largely two ways to deal with Barubary in a duel. The first one is to use G.Drgn repeatedly, which will require Ryu to restore his HP and AP in a regular basis, priority is to be given to keep HP high and depending on the player's level, Barubary may well be capable of beating Ryu in two swats of physical attacks or two uses of Bolt X (the latter being rare). His weakest attacks Cold/Fire Breath should be taken as chances to act more freely. A large stockpile of Extracts and Wise Balls will be needed for this strategy. Wise Fruits can be used, but since they restore only 20 AP and damage Ryu, they are risky. Around 4 uses of G. Drgn will defeat Barubary with this method.
The second approach is to power up Ryu will multiple buffs which can be achieved with certain items. MedusaSH can rise Ryu's ATK, HolySH can bestoy Shield which will reduce damage from Barubary's spells. Finally Biscuits can increase Ryu's DEF while also restoring his HP. All combined, Ryu should prove sufficiently resilient to deliver a nice pounding at Barubary with increased strength. G.Drgn can also be utilized here, but it is less essential. One small risk from this strategy is that if relying on physical attacks, they may cause Barubary to counter more often, however with sufficient level this should not prove deadly.
Team strategy
Edit
If the player chooses to fight Barubary as a team his states will be higher making the fight more of a challenge in ways. 
It can be advised to use the same strategy as the player would fighting Barubary alone, using G.Drgn constantly and healing when needed. This should be easier to do now you have a full party to aid Ryu.
A good setup is using Katt (in her Devil form), Nina (in her Wind+Holy form) as well as a third member of the players choice (Rand in his Earth form being a viable fourth pick).
Katt is would be the main damage dealer, together with Ryu (she should be attacking every single turn, if possible). Due to her high speed, don't be afraid to have her use an item to help out the team if needed.
Rand is used as the main healer (using items) and should focus on keeping everyone's HP up as well as Ryu's AP so he can continue using G.Drgn.
Nina is going to dish out as much pain as possible using her most powerful spells (or helping the others keep their HP/AP up using items).
Overall, the players priority should be:
1) Keeping everyone's HP high as possible.
2) Reviving a dead team member.
3) Ryu's AP.
4) Nina's AP.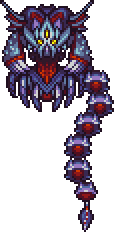 Community content is available under
CC-BY-SA
unless otherwise noted.