Main article: Barubary
Breath of Fire II
Barubary
バルバロイ Barubaroi (Barubaroi)

HP
AP
Infinite
Infinite
Atk
Def
Ms
?
140
-1
Agi
Luck
Immunity
90
{{{luck1}}}
{{{immunity1}}}
XP
Z
{{{xp1}}}
{{{z1}}}
Barubary
バルバロイ Barubaroi (Barubaroi)

HP
AP
3800
Infinite
Atk
Def
Ms
?
140
-1
Agi
Luck
Immunity
90
{{{luck2}}}
{{{immunity2}}}
XP
Z
4000
5000
Barubary
バルバロイ Barubaroi (Barubaroi)

HP
AP
5000
65535
Atk
Def
Ms
380
140
-1
Agi
Luck
Immunity
{{{agi3}}}
{{{luck3}}}
{{{immunity3}}}
XP
Z
4000
5000
Barubary is a boss found in Breath of Fire II.
Storyline
Edit

This section is a stub. Please help Breath of Fire Wiki by expanding it.

This section is a stub. Please help Breath of Fire Wiki by expanding it.
The player encounters Barubary three times and battles him twice during the events of Breath of Fire. 
The first one is easy: just hit him until he loses a certain amount of HP and the battle will automatically end. Conserve your items as much as possible in this fight. 
After the first fight, a short cutscene happens in which he asks if Ryu wishes to fight alone or to continue fighting as a group. 
Solo strategy
Edit
G.Drgn is extremely useful to the player for this. The player should have enough healing items on them to be able to constantly use G.Drgn and heal their HP and AP in between when needed.
Team strategy
Edit
If the player chooses to fight Barubary as a team his states will be higher making the fight more of a challenge in ways. 
It can be advised to use the same strategy as the player would fighting Barubary alone, using G.Drgn constantly and healing when needed. This should be easier to do now you have a full party to aid Ryu..
A good setup is using Katt (in her Devil form), Nina (in her Wind+Holy form) as well as a third member of the players choice (Rand in his Earth form being a viable fourth pick).
Katt is would be the main damage dealer, together with Ryu (she should be attacking every single turn, if possible). Due to her high speed, don't be afraid to have her use an item to help out the team if needed.
Rand is used as the main healer (using items) and should focus on keeping everyone's HP up as well as Ryu's AP so he can continue using G.Drgn.
Nina is going to dish out as much pain as possible using her most powerful spells (or helping the others keep their HP/AP up using items).
Overall, the players priority should be:
1) Keeping everyone's HP high as possible.
2) Reviving a dead team member.
3) Ryu's AP.
4) Nina's AP.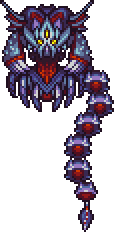 Community content is available under
CC-BY-SA
unless otherwise noted.